With proper training, your management and employees can adequately run any industrial compressed air system. Compressed air is the fourth utility (after water, electricity, and natural gas) and it makes sense that you should have the most efficient system possible. Not only do we install new systems, but we can also reconfigure existing systems for companies that are expanding or changing their production layout.
Expert Systems Training From Experienced Engineers
Delta Industries Inc. offers you structured training from experienced engineers who know the ins and outs of compressed air systems. The team will teach you to you evaluate your equipment, apply techniques to reduce costs, improve productivity, and maintain a reliable system.
Reduce Errors and Improve Productivity
You'll be able to eliminate leaks, reduce artificial demand, and streamline your processes, so you save on the operating costs of your facility.
Resources and Tools To Manage Your Systems
Our seminars will give you and your team the information and confidence you need to to tackle your compressed air demand. You'll learn industry rules-of-thumb, equipment types and applications, and common issues to watch out for when reviewing your current air compressor and related equipment.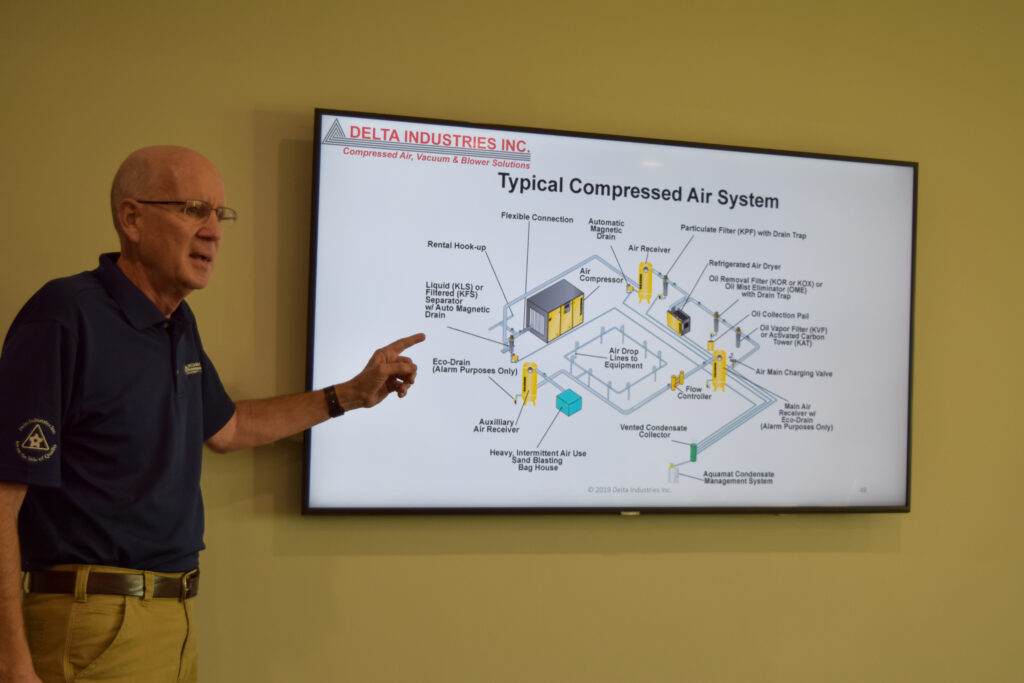 SYSTEMS TRAINING CORE PRINCIPLES
Training may include the following principles:
Terminology and physics of compressed air, the operating process of compressors, and the principles behind compressed air systems.
Matching supply to demand through advanced control systems.
The function, application, and pros and cons of different kinds of air dryers, air filters, and other air treatment.
The ways that differing equipment layouts, distribution systems, and storage affect system efficiency, productivity, and reliability
The reasons that correct installation of equipment and proper equipment maintenance improve the reliability, efficiency, and productivity of the compressed air system
Contact Delta Industries Inc. now by emailing engineeringinbox@deltaind.net to schedule a training session.