Kaeser Compressors has been providing complete air systems to businesses all over the world for over 100 years. Known for their high efficiency and reliable German engineering, Kaeser has developed a name for high quality air compressors and compressed air systems.
Illinois and Iowa Distributor of Kaeser Industrial Air Compressors
Delta Industries has been proudly distributing Kaeser industrial air compressors since 1987, making us the experts in the industrial air systems throughout Illinois and Iowa including the Chicagoland Area, Peoria, Des Moines, Cedar Rapids, and surrounding areas. Kaeser has been carving out a reputation for superior product quality and reliability, making Kaeser a leading innovator in compressed air system technology. Delta Industries has installed over 4000 Kaeser compressors across the two states over the past 30 years.
Learn more about the benefits of oil-free air compressors and find out how it can work for your business in our knowledge center.
---
Stand Alone Air Compressors
Sigma ™ Profile Airend – Screw Air Compressors
We are proud to be the only authorized distributor of Kaeser equipment in Illinois and Iowa. Kaeser Air Compressors are engineered to perform exceptionally well in high-demand environments. Kaeser's SIGMA profile airend is designed to deliver the maximum amount of compressed air in the most energy efficient manner.
We are fully stocked with industrial air compressors to meet your requirements and application. Contact us today and let us provide a free, no-obligation quote.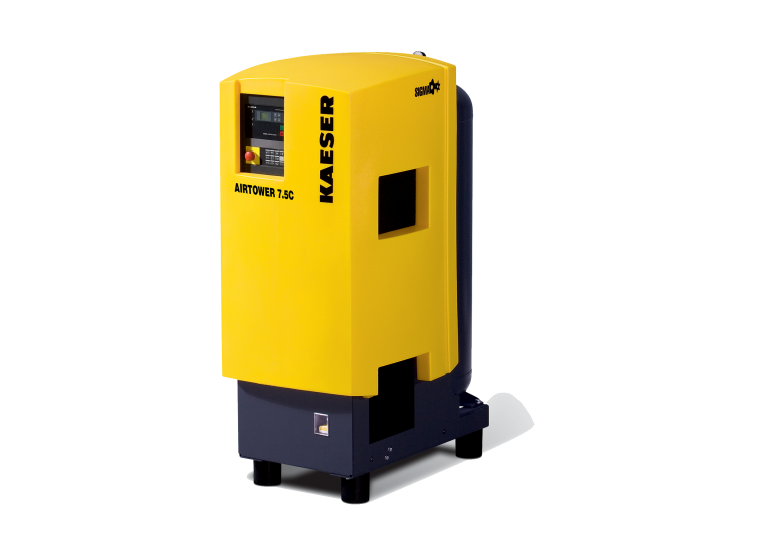 Rotary Screw Air Compressors – Integrated Systems
Kaeser's rotary screw air compressors are also available in a variety of different configurations. These packaged systems can be customized to suit your specific compressed air and clean air treatment needs.
Sigma Frequency Control
Kaeser's Sigma Frequency Control (SFC) combines Siemens drive technology with their Sigma Profile airend and Sigma Control system. Kaeser has optimized the airend design to accommodate a wide flow range with maximum efficiency. Kaeser's SFC units range from 8 to 515 kW with noise levels as low as 67 dB(A). SFC models up to 132 kW are also available with integrated dryers.
Sales of Kaeser Industrial & Commercial Air Compressors
Kaeser Air Compressors are not only highly trusted, but they are also renowned around the world. For many years they have been trusted to deliver the promise of quality of service. Depending on your specific businesses needs, we have everything from portable to larger models to find the perfect option for you.
Related: Piston Vs Rotary Screw Compressors
Our air compressors, pistons, and rotary screws are made of high-quality materials and engineered to last. Our air compressors can both be stand-alone or integrated units. Once the sale or rental has been completed, our Illinois or Iowa team works on training to make sure that once Delta leaves the room, your employees can control their compressed air system without a hitch.
---
Parts and Service of Kaeser Air Compressors in Chicago, Des Moines, Peoria, and Cedar Rapids, Iowa
We offer 24/7 emergency service for our customers in Chicago, Peoria, Des Moines, Cedar Rapids, and the Quad Cities area. We have thousands of parts in stock for a wide array of air compressor models and brands.
Our expert service team offers year-round service and maintenance to avoid downtime at your facility. Maintaining and servicing your equipment helps maximize the lifetime usage of the compressor. Safety-related systems are checked and, if necessary, adjusted or replaced following consultation with the customer.
Since Delta Industries also carries the parts, we can repair most equipment on the spot to avoid delays. We also service and maintain air treatment products including dryers and filters, compressed air piping, portable air compressors, blowers and vacuums
Air compressed system services
Preventive Maintenance with scheduled year-round service agreements
Emergency Service and Repair
Cost Control and Efficiency Survey
Heat Recovery Systems
Rotary Airlock Rebuild
Complete Rebuilds
Turnkey Design and Installation
Systems Training
Ready To Get Started?
Let's see which compressor is best for you.