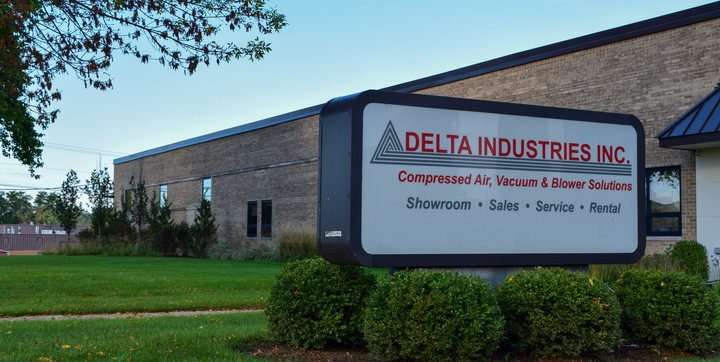 Commercial Air Compressor Maintenance and Repair in Chicago, IL
We are a proud distributor of Kaeser Air compressed equipment in the Chicago area
Industrial and commercial clients in the Chicago area rely on Delta's premier air compressed systems maintenance and repair to keep their air systems working efficiently 24/7. We provide sales, services, preventive maintenance, service agreements, turnkey design, rentals, and product sales for a wide array of industries.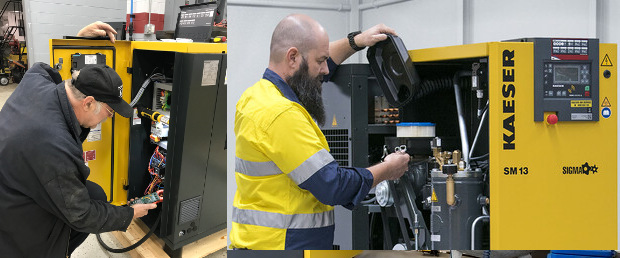 Avoid failure and expensive repairs with a comprehensive preventive maintenance service from one of Chicagolands premier air compressed systems companies – Delta Industries.
The loss of an industrial compressor for your Chicago business can bring costly unwanted downtime to your business. Depending on your business, maintaining or repairing your industrial air compressor might not be something you can do so yourself. You can avoid the slowdown and financial hazards that often accompany air compressor failure with timely and proper maintenance.

Learn why we are one of the top air compressed system companies in the Chicago area.
Preventive care on your commercial air compressor can help you extend the life of your equipment.
Keeping your air compressors well-lubricated, changing their filters, and fixing minor issues as needed can help. You are consulting with your experienced technicians ahead of time to void expensive problems by planning preventive maintenance.
Compressed Air Equipment Parts and Sales in the Chicagoland Area
Delta Industries also provides air system parts and air treatments, including filters and separators, oils, lubricants, fluids, and much more. Since we have worked with some of the most trusted brands, we have a full supply line of the most needed replacement parts.
Delta industries will help you keep your business running smoothly and efficiently 24/7, 365 days a year with a full stock of products, parts, and a superior service that will exceed your expectations.
Fully stocked with products and parts for all your air compressed needs
We are proud to sell and rent some of the most trusted brands of industrial air compressors in the Chicago area and Iowa areas. You might know precisely what you want or might need an assessment from one of the expert sales team members to help you narrow down the type of product or part your system needs.

Our Chicago sales team is experts in analyzing each business's needs to recommend just the right size and type of air compressor products and parts.
Full Air Compressed System Turnkey Design Systems in Chicago
Delta Industries is proud to be able to provide a vast selection of turnkey equipment sales, repair, and service in the Chicagoland area for all aspects of your industrial compressed air system. Our turnkey solutions are only equaled by superior benefits, such as expert team members and engineers.
Our standard of excellent service is noticed by the returning customers in Chicago that have been clients for a while now. We understand how significant it is to trust a company that can offer all the turnkey solutions we offer is a one-stop-shop convenience.
Delta Industries has been around for over 30 years building relationships with the companies in Chicago and the Chicagoland area, that strong trust has been gained by making sure we stay on top of the technology updates that occur with air compressor systems such as compressed air filters, pipping and dryers, blowers, vacuums, chase chillers, air knife systems, magnetic air compressor filters, and oil-lubricated or oil-free air compressors.
Chicago Air Compressor Product Rentals
Delta Industries understands the importance of having trustworthy compressed air and vacuum systems in a manufacturing facility, especially when production needs to keep moving day or night. Our company offers a wide range of Chicago air compressed system rental solutions to help keep you afloat when you transition from an older compressor model to a newer version or your current equipment needs extensive repair. We offer air system rental equipment for all types of applications.

Our Chicago area experts can give you specific industry guidance and advice to guide you to the fastest, effective equipment rental installation. We appreciate the trust that has been instilled in us, and we are a company that can offer all the turnkey solutions we offer as a one-stop-shop convenience in and around the Chicagoland area.
Industrial Air Blowers and Vacuums in Chicago
As a Chicago full-service fan-based company, we also offer auxiliary equipment, monitoring, bearings, fan modifications, engineering, auditing, startup services, and maintenance.
We have been exclusive blower and vacuum handlers and distributors of trusted brands since 1987. Since no two businesses are the same, we offer personal services that will fit your business needs. When it comes to blowers, all in all, highly efficient and designed for maximum noise reductions, this system can be the perfect solution for your needs.
Read through our knowledge center to learn more about air compressed systems.
If an industrial vacuum is what your business needs, we can assist immediately with ready-to-install vacuums that come in various models designed to withstand time and daily use. The Chicagoland area is more than set, with Delta Industries prepared to offer equipment, parts, maintenance, and services.