Delta Industries offers a wide array of air treatment services and products to keep your compressed air systems running smoothly and improve your operations without any interruptions. With more than 30 years of experience in the air compressed industry, we offer different treatment options and parts for all types of air compressors.
Industrial Air Compressed Service Parts in Illinois and Iowa
Delta Industries is a proud distributor of Kaeser products. With our services expanding across Illinois and Iowa, we are fully stocked with products and parts including air filters, air piping, air dryers, and magnetic air compressor filters to help you maximize the life expectancy of your air-compressed system.
Compressed Air Filters
It is important to maintain your air compressor just like you would change the oil on your car. It's important to have the appropriate filter system for your compressor to avoid any mishap and ensure it will run smoothly.
There are several types of filter grade options to choose from, for instance, a coalescing filter that works for both wet or dry applications and helps remove water and oil residue along with particulates. Additionally, other types of filters range from dust or oil vapor filters, ranging from 20-21,250 scfm made for different pressure gauges. There is a filter that will fit the needs of your compressed air equipment.
It's recommended to replace the air filters on your industrial air compressor every 2000 hours of use; at a minimum. Contact us at Delta Industries for both the air filters recommendations and the installation and replacement of air filter parts.
Air Filter Grade Options
| Filter Option | Type | Application |
| --- | --- | --- |
| KC | Cyclone Liquid Separator | Used for large volume liquid separation. |
| KB | Coalescing Filter | Wet or dry applications. Removes water and oil aerosols and particulates. |
| KE | High-Efficiency Coalescing Filter | Wet applications with larger liquid loads removing water and oil aerosols and particulates. |
| KD | Dust Filter | Dry applications. Effective as an after-filter for heatless desiccant dryers. |
| KA | Oil Vapor Filter | Dry applications. Absorbs oil vapor. |
---
Compressed Air Piping
The piping system of your compressed air equipment is essential in making sure your compressed air equipment gets the adequate air it needs for maximum results. The air quality, flow and pressure are affected by the piping system.
Delta Industries exclusively offers Kaeser's SmartPipe™ lightweight technology that offers and outstanding benefits, such as elimination of risks of air filter contamination and reduction of flow restriction. The piping is made of aluminum which will not rust, along with no need to blaze or weld to assemble and disassemble.
Let us maximize your airflow potential with one comprehensive system audit and reduce costs and improve efficiency.
Kaeser's SmartPipe ™
Kaeser's SmartPipe ™ technology offers all the necessary benefits needed to eliminate the risks, including air quality contamination and reduced flow restriction.
Smooth aluminum constructed for minimal friction to provide the best possible streamline flow
Bore fittings optimize airflow and energy efficiency while minimizing the possibility of pressure drops
Wasted energy and air loss are prevented by leak-free connectors
Aluminum will not rust or corrode
Installation is faster than usual piping
No threading, brazing or welding needed
Easy to assemble, disassemble, add or remove as needed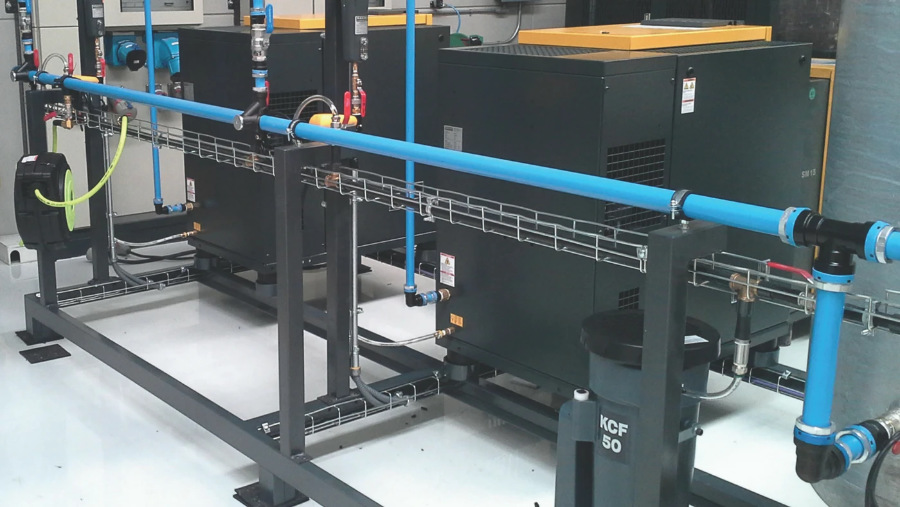 ---
Compressed Air Dryers
Air dryers are essential to separate water vapor or moisture (de-humidify) from the air process. In the typical system, a compressor draws in humid air and compresses it, which raises the air temperature and then cools the air, condensing water vapor out of the unit. Compressed air dryers provide the end-user with moisture-free air, allowing for improved productivity while simultaneously reducing maintenance costs.
When water vapor is released from the compressed air system, it becomes liquid, increasing maintenance requirements and affecting overall productivity. Kaeser air compressor dryers are designed to meet your exact needs and reduce the risk of unnecessary maintenance work and saving you costs in energy.
Delta Industries offers compressed air dryers, whether refrigerated, desiccant, or heatless drying systems, ensuring high-efficiency and low maintenance requirements and bringing ambient air to legal standards.
Contact us today and let us help you with all your air compressor parts and products and improve your air systems.