Delta Industries proudly sells, services, maintains, and repairs Paxton Air Knife system products throughout the Illinois and Iowa areas. Paxton high-performing air delivery systems are engineered to optimize airflow to meet the demands of your application.
For over 50 years, Paxton has been one of the leaders in the air delivery industry for drying and blow-off technology. Additionally, Paxton products guarantee to achieve performance that meets customer specifications.
Whether you need drying, blow-off of residue, convey, sort, move or hold down materials and products, Paxton has the perfect solution for your manufacturing processes.
We are a top distributor in Illinois and Iowa including Chicago and Des Moines of Paxton Air Knife products. Contact us today and learn how our team of specialists and engineers can help you improve your systems.
Paxton Air Knife Products
Our Custom Approach
Paxton's systems are custom engineered to fit customer needs, no matter the application. With this in mind, the process begins by answering the following questions, thus optimizing the drying and blow-off application of your products:
What is the size of the product?
What is the shape of the product?
How much debris or water needs to be removed?
At what speed will the product travel?
What configuration will the product(s) be in?
This custom approach is used to create a system to meet a customer's needs, thus reducing operational costs and optimizing performance.
Highly-Experienced Provider of Air Knives
Delta is a proud distributor of Paxton Air Knife systems in Illinois and Iowa. Paxton has been one of the leaders in the air delivery industry for drying and blow-off technology since over 50 years ago. In addition to this, their products ensure performance that meets customer specifications.
Our highly trained team of technicians will provide the best solutions based on your business needs.
Air knife Product Options
Inline Manifold
The Paxton Inline Manifold is perfect for drying applications, including drying cans and other containers before date coding. The inline manifold has six flexible nozzles available with either a polypropylene manifold or a 316 stainless steel manifold, both with Loc-Line nozzles.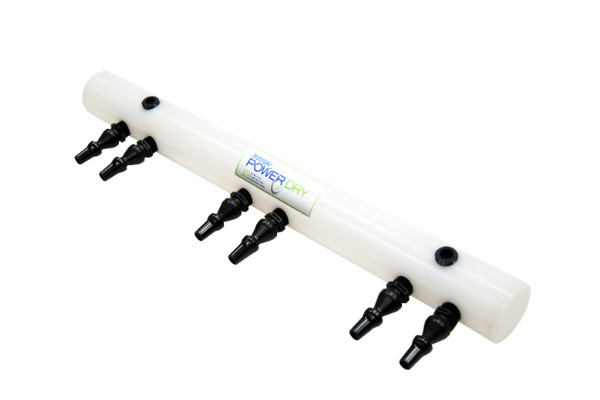 Inline Manifold Specifications
Polyethylene and Stainless Steel options
30 inches long x 3 inch OD
6 in-line nozzles, in sets of two

Loc-Line design
3.5 inches long
.5 inch ID
---
Nozzle Manifolds
Nozzle manifolds are an excellent solution for applications requiring greater distances between the air source and the product, typically, applications requiring air delivery at a distance of 5 inches (130 mm) or more. Nozzle manifolds guarantee performance as far as 18 inches (450 mm).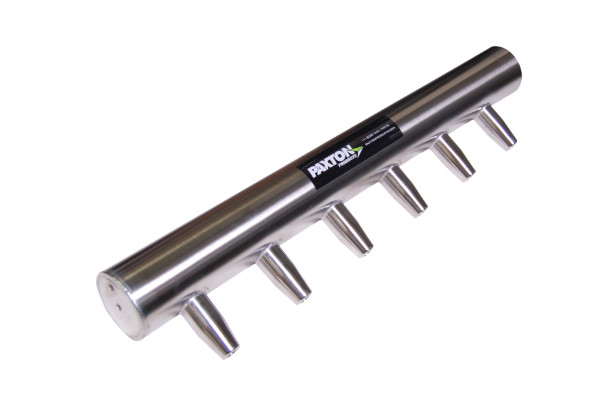 | | |
| --- | --- |
| Pressure, inches of water | Air flow, cfm, per nozzle |
| 40 | 34 |
| 50 | 38 |
| 60 | 41 |
| 70 | 44 |
---
UNO Nozzle
The Uno nozzle replaces a compressed air nozzle, which is perfect for targeted airflow for a small target. Additionally, this concentrated design reduces compressed air usage and thus maximizes savings.
Features
Used to replace compressed air nozzle
2 inch OD inlet
.5 inch ID outlet
Loc-Line
304SS design with Acetal Copolymer Nozzle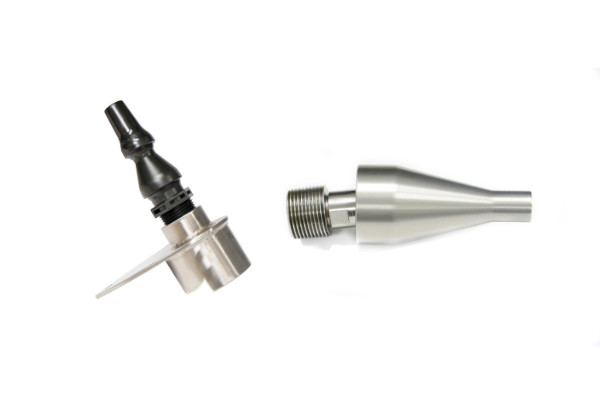 ---
Spyder Manifold
The Spyder Manifold is an excellent solution for applications involving drying of hard-to-reach areas, including tips, sides, under the rim of cans, jars, and bottles. The 'spider-like' arms are flexible to adjust to different product shapes and sizes.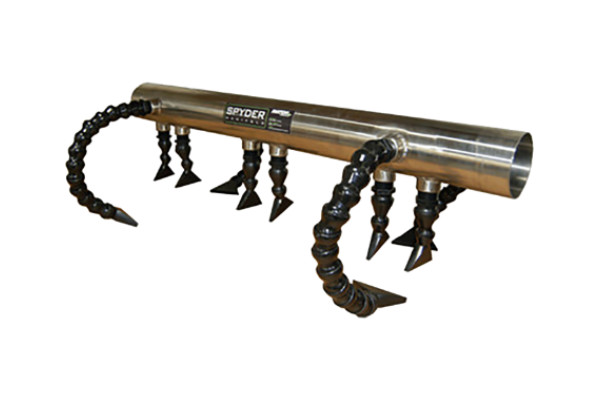 Features
Available in both polyethylene and stainless steel
Nozzles

Loc-Line construction
1/2 inch ID
Flare Tips
No. of Spyder Arms
4
8
16
No. of Inline Nozzles
6
4
6
Length, inches
30
30
46
OD, inches
3
Spider Arm Length, inches
15.5
---
Air Knives
Paxton Air Knives provide maximum efficiency of high-velocity air drying and blower applications. Furthermore, consistent air coverage over the intended area with a standard gap of 0.055 inches. Additionally, the air knife system is available in aluminum or 304 stainless steel options.
| Pressure (inches of water) | CFM |
| --- | --- |
| 40 | 9.5 |
| 50 | 10.5 |
| 60 | 11.3 |
| 70 | 12.2 |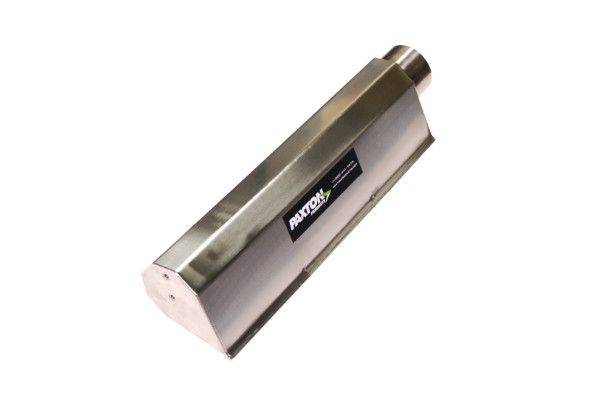 ---
CapDryer Systems
The CapDryer systems focus on the neck and lid of most bottle types and sizes, thoroughly drying the cap and throat within an 18-30" footprint.
Features
Reduce false readings from vision systems
Improved adhesion and positioning of label and tamper band
Eliminate coding quality issues due to smearing
Easily adjustable for varying bottle sizes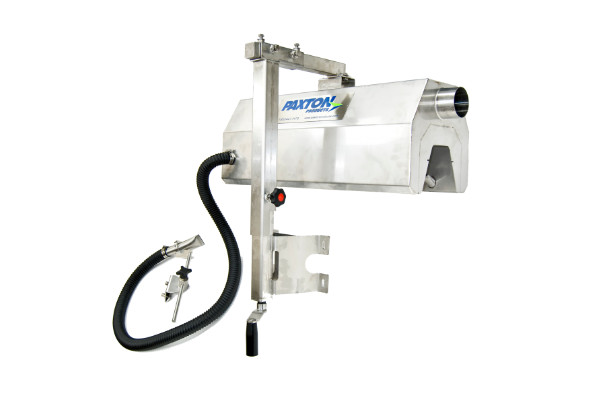 ---
Air Halo
The Air Halo is perfect for irregularly shaped objects that require an all-around drying on a conveyor-type system. To accomplish this task, the Air Halo wraps and attaches to the conveyor with powerful nozzles, thus allowing for a 360 degree drying application.
360-degree drying
Ideal for large, irregular surface items such as beer kegs
Thrust up to 18 inches away from the target
Custom designed based on product size and conveyor size
Powerful 3-inch air manifold
0.5 inch ID nozzles
Coupled with AT-series blowers to give high efficiency and low energy usage
| Pressure (inches of water) | CFM |
| --- | --- |
| 40 | 34 |
| 50 | 38 |
| 60 | 41 |
| 70 | 44 |