Delta Industries Inc. prides itself on providing customers with the best air compressed systems products and services in Illinois and Iowa. What do you gain from choosing us?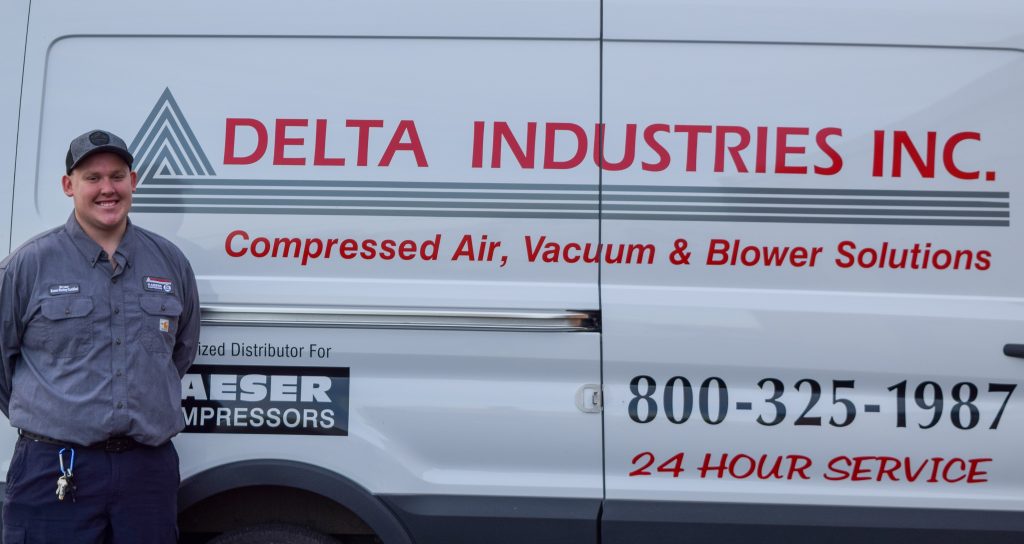 Safety
Delta Industries Inc proudly places safety as one of the top priorities. With safety measures in place and a highly trained staff, we are able to provide safe working environments for both our customers and employees.
Communication
It starts and ends with communication, so we make great communication a priority. We listen to the needs of our customers and do the work to provide the best possible solution. We follow up to make sure satisfaction is met and systems are being maintained in the best working order. Since we know inconvenience can strike beyond working hours, we are available 24/7 for those unexpected moments.
Proactive Approach
We pride ourselves in our preventive maintenance services, which strive to foresee potential issues and stop them before they happen. Our technical experts are available for routine Cost Control and Efficiency Surveys, because we want to make sure that your systems are running in the most cost-effective way. Preventing a problem is just as important as fixing one.
24/7 Service
You can count on Delta Industries to be there for you when you need us most. We have 24/7 emergency service available in the event that your system has a problem at anytime, even three o'clock in the morning. Our technicians are here to take care of you.
Integrity
We are committed to providing the best services and quality products even when we are faced with difficult decisions – We do the right thing, even we face adversity. It is our goal to make sure that the customers receive the product(s) and/or service(s) that best suits their needs.
Satisfaction
We are proud to have thousands of satisfied customers across Illinois. We work hard every day to update our knowledge of the industry, products, services, and best practices so that we can provide you with everything necessary to meet your compressed air needs today and in future years.
---
DONT TAKE OUR WORD FOR IT!
Customer Testimonials:
Delta Industries stood behind the relationship & product. This speaks volumes with respect to the fundamentals of integrity that are the cornerstone of a properly structured business. Delta is definitely a reliable benchmark to which all other vendors should be compared.
I also want to highlight Delta's service technician. As an engineer myself, I appreciate his subject-matter expertise, professional methodologies, and forensic approach to fully understand the product and engineering concepts involved. I trust his assessment and technical guidance. He's welcome at any of my facilities.
Rob Rinella | President, Advanced Metalcraft Inc.
We have had an excellent experience working with Delta Industries. Our account manager, John, is very cooperative and wonderful to work with. We have worked with Delta for 30 years and we're very satisfied.
Jim McCauley | McCauley Mechanical Construction
Always enjoy working with the people over at Delta Industries, there has been unexpected break down on our compressors which they always have all the parts needed to get us back up and running. Great people overall, and very knowledgeable. Plus, I love their hats!
They have great phone support if needed for technical questions which they can help resolve quickly over the phone. Keep up the good work!
Randy Suchowski | Plaspros Inc.
Contact us today and learn how we can help you improve your air systems.