Illinois and Iowa Blower and Vacuum Products & Services
For more than 30 years, we have been the leading distributors of the best quality blowers and vacuums in Illinois and Iowa. With a full staff of air-compressed specialists and engineers, we are just a phone call away to help you with all your blower and vacuum needs.
Sales, Service, Repair, Maintenance and Turnkey Design
Since 1987, Delta Industries Inc. has been providing reliable air compressed system services and products for a wide array of company sizes and industries. We are a proud distributor of Kaeser air compressors, blowers, and vacuums throughout Illinois and Iowa. Our highly skilled team of specialists and engineers are more than ready to handle any project. From sales, service, repair, maintenance, and turnkey design, we are a one-stop company for all your blower and vacuum needs.

Delta Industries Inc. will work with you to find the right blower or vacuum system to fit your application. Please see below-highlighted features of the Kaeser's Blower and Vacuum line.
Why should you choose a Kaeser?
Kaeser has been in the manufacturing and innovation of compressed air systems for over 90 years. They are German engineering in their truest form.
Since entering the US market in the late '80s, Kaeser has become synonymous with reliability, longevity, and style. When you walk into the room and you see that signature yellow box, you instinctively realize that you're in good hands.
Low Cost Of Ownership
With a focus on low maintenance, long life cycles, and easy serviceability, you will see an immediate return on your investment. With over 30 years in business, Delta Industries Inc has amassed countless amounts of industry knowledge that they are happy to share with you! For more information, please feel free to contact us today.
Top-Notch Quality
All of the Kaeser products are built with pride and engineered to last. You can feel confident that your product is truly a workhorse.
Innovation
Kaeser is always finding new ways to improve its products. They have been doing this for over 90 years, so you can be sure that they're onto something! Frequent upgrades and updates keep them a step ahead of the competition.
Industry Leading Technical Support
Kaeser's technical support team works hard to ensure all their customers have an optimal experience, whether it be for warranty or non-warranty calls. They consistently go above and beyond in order to keep our machines running at peak performance levels.
Reliable Service You Can Trust
Delta Industries knows that downtime is money when it comes to your business, and we pride ourselves on short response time to repair or service calls.
Our factory-certified technicians are the best in the business and will make sure your equipment runs like new! If you ever need help with a warranty claim, please contact us immediately to get started right away.
Good Choice for Many Applications
Delta has blowers suited for many different applications, including direct drive systems that offer high pressure at low volumes and other options such as belt-driven models that have higher power/volume ratios while still maintaining excellent efficiency levels because of their internal construction design features.
Trusted By Hundreds of Clients
Delta has become the go-to resource for many of our customers because they know that Delta is always there to help. We have a proven track record of meeting and exceeding our customers' requirements.
The Kaeser blowers are reliable, high-quality machines that will continue to stand the test of time as they provide years of continuous service.
Kaeser Industrial Blowers Distributors
Kaeser Rotary Lobe Industrial Blowers
Delta Industries Inc. is the exclusive distributor of Kaeser Industrial Blowers throughout Illinois and Iowa. Considered as top-of-the-line air compressor blowers in the industry, Kaeser's name is becoming a customer's go-to. Kaeser's positive displacement blowers have a strong reputation for efficiency and reliability and offer flows to 5650 cfm, pressures to 15 psig and vacuum down to 15″ Hg in the Omega blowers. Consequently, quality, durability, and efficiency are all characteristics of the Kaeser rotary blower designs.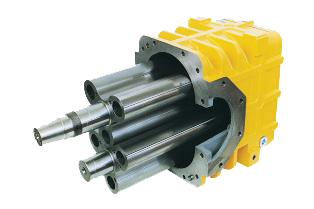 The true meaning of accuracy. Highly precise CNC machines move the rotor profiles and gears to a tolerance of 1/1000 mm. As a result, the gaps between the tips of the rotor and the casting guarantee reduced slip and the highest efficiency.
Piston-ring sealing
Heavy-duty bearings
Precision gears
Sealing-strips
Solid block casting
Reliable splash lubrication
---
Com-PaK Rotary Lobe Blower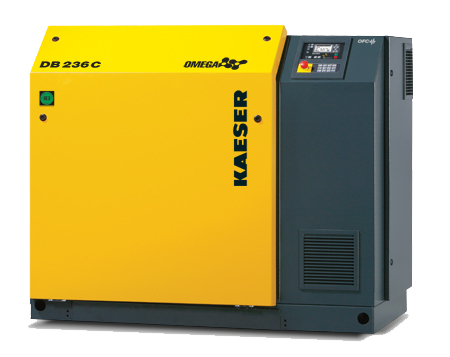 Com-paK units minimize space requirements and reduce installation costs. Additionally, power availability ranges from 3 to 250 HP, as well as flow capability up to 3200 cfm. Furthermore, all routine maintenance points are accessible from the front and all utility points can be accessed from the back. All in all, highly efficient and designed for maximum noise reductions, this system can be the perfect solution for your needs.
Omega Tri-lobe Blower
Quiet operation
Low pulsations
Low operating costs
Simple maintenance
Automatic belt tensioning
Easy fluid checks
Effective cooling
Outdoor installation
| Series | Horsepower Range (HP) | Flow Range (CFM) | Integrated Controls |
| --- | --- | --- | --- |
| BBC | 2-20 | 57-270 | Available |
| CBC | 7.5-40 | 116-419 | Available |
| DBC | 7.5-60 | 261-747 | Available |
| EBC | 25-100 | 577-1366 | Available |
| FBC | 40-175 | 683-1968 | Available |
| HBC | 75-250 | 1429-3296 | Not Available |
---
Kaeser Heavy Duty Blower – HB Series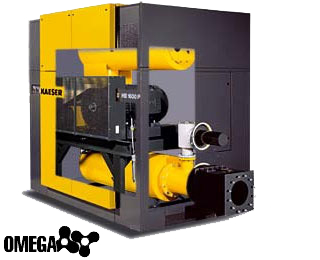 Do you need a blower with a little extra power? In that case, Kaeser's HB series blowers are available from 75 to 335 HP. Additionally, these industrial blowers feature the same benefits of efficiency and noise reduction as the Com-paK packages.
Simple Maintenance
Premium efficiency motors
Automatic belt tensioning
Effective cooling
Cooling air flow
| Model | CFM | Pressure | Vacuum |
| --- | --- | --- | --- |
| HB 1300Pi | 2176 – 4493 | Up to 15 psig | Up to 15″ Hg |
| HB 1600Pi | 2922 – 5258 | Up to 15 psig | Up to 15″ Hg |
---
Kaeser Rotary Screw Industrial Blowers
Named one of the winners of the 2014 Breakthrough Products of the Year, by Processing Magazine, Kaeser's fully integrated turnkey screw blower package is outfitted with a soundproof steel enclosure, intel filters, and a high-efficiency motor. Additionally, Sigma Control 2 ™ monitors all sensors and internal communications systems.
Available versions include SFC (Variable Frequency Drive) and STC (wye-delta start).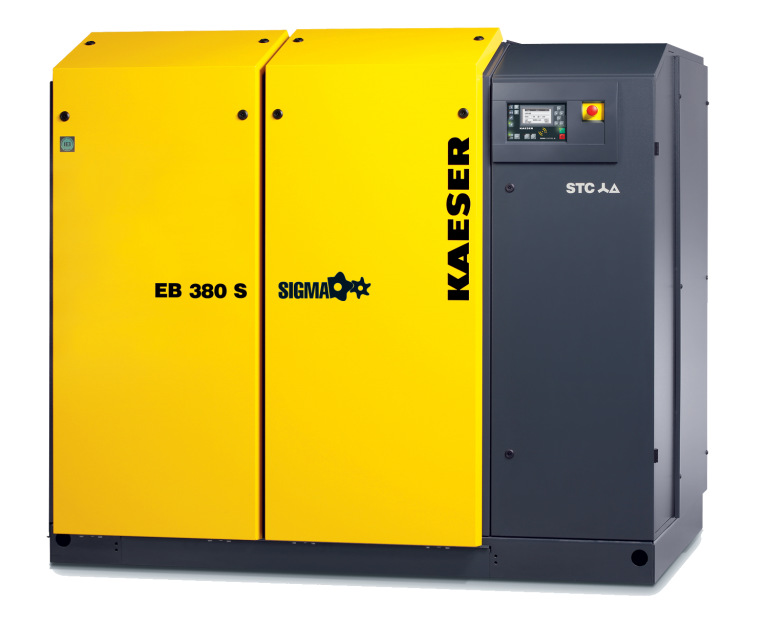 Kaeser's screw blowers can use up to 35% less energy than your average rotary blowers. As a result, energy savings can be seen right away. This is achieved by combining a blower airend with high efficiency Sigma profile rotors, powerful transmission, flow-optimized components, and drive components that ensure exceptional performance.
Sigma profile blower airends
Comprehensive sensors
Available versions include SFC (Variable Frequency Drive)
STC (wye-delta start)
| Model | Capacity (CFM) | Power (HP) | Pressure |
| --- | --- | --- | --- |
| DBS | 636 – 812 | 30 – 50 | Up to 15 |
| EBS | 1271 – 1342 | 60 – 100 | Up to 15 |
| FBS | 2295 – 2366 | 100 – 150 | Up to 15 |
---
Kaeser Rotary Screw Industrial Vacuums
In addition to being the exclusive distributor and service provider of Kaeser industrial blowers throughout Illinois and Iowa, Delta Industries Inc. has exclusive access to Kaeser's industrial Vacuums. With "Kaeser" printed on the box, you can rest assured that you are receiving the best vacuum package for your application.
The Kaeser Rotary Screw Vacuum Package features the proprietary Sigma Profile airend and the Sigma Control System. With this in mind, Kaeser's industrial vacuums are designed and engineered to provide low energy costs, optimum efficiency, and a maximum vacuum of 99.9%.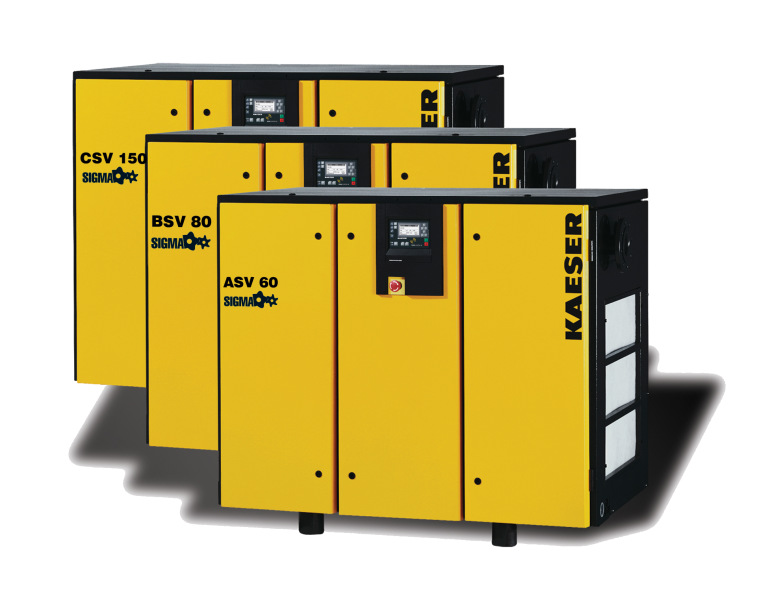 Description:
Available in 10-40 HP
Up to 555 acfm capacity
Models: BSV, CSV, and ASV Series
Advantages to owning your own Kaeser Rotary Screw Vacuum package include the following:
Sigma Profile airend designed for energy-saving in mind.
Sigma Control system
Sound reducing insulation ensures a quiet operation
All units are ready for installation
Contact Us Today!
At Delta Industries, we specialize in offering top-notch blowers and vacuums for our clients in Chicago, Peoria, Cedar Rapids, Des Moines, and several cities across Illinois and Iowa. . To learn more about the availability of our products, contact us today to speak of our team for more helpful information.
Ready To Get Started?
Let's see which compressor is best for you.