We offer sales, service, maintenance, and audits of all types of industrial air compressors and air systems equipment throughout Illinois and Iowa. Our high-quality air compressed products and services allow us to deliver efficient, reliable, and cost-saving solutions to our clients.
Our staff has the expertise and training to create the most efficient system for your application.
Rotary Screw and Piston Air Compressors Sales & Service
Oil-lubricated air compressors can be broken down into a number of sub-categories, but the two main types we deal with are our rotary screw and reciprocating (piston) air compressors. We have written a comprehensive article about the differences between a rotary screw and a piston air compressor in our knowledge center.
The right fit for your needs will come down to the size of the compressor you need, what pressure you require, how often you will be running the machine, and the environment the compressor will be going into. Our trained staff can accurately determine which air compressor is suitable for your application.
---
Kaeser Rotary Screw Air Compressors
Since 1987, Delta Industries Inc. has been a proud distributor and full-service provider of Kaeser Rotary Screw Air Compressors in Illinois and Iowa including Chicago, Peoria, Des Moines, Cedar Rapids, and surrounding cities. We offer sales, service, repair, and sales of used air compressors.
Saylor-Beall Piston Air Compressors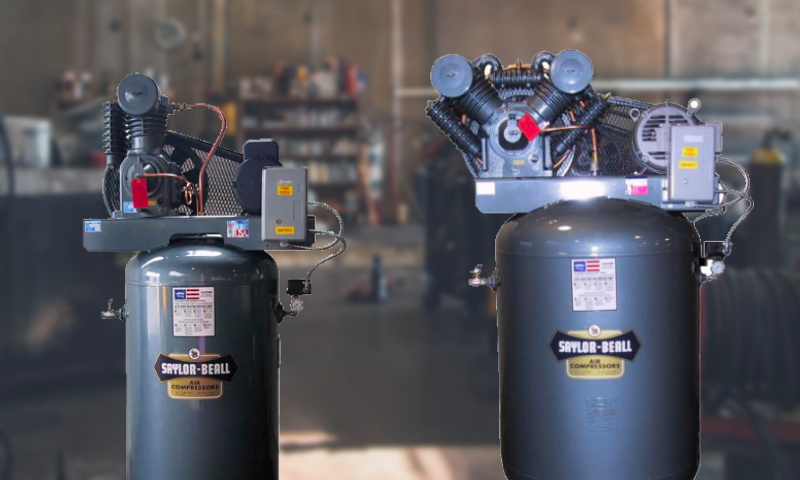 ---
Why Choose an Oil-Lubricated Air Compressor?
Top-Notch Quality Products
Delta Industries Inc. is committed to providing our customers with reliable, durable oil-lubricated air compressors that will stand up to the rigors of your application.
High Industry Expertise
Our trained professionals have the expertise to help you choose the right air compressor for your application. With their guidance, you can feel confident that our oil-lubricated air compressors will deliver maximum performance and optimal productivity in all conditions.
Efficient & Sustainable Performance
Our experts have created solutions designed to save energy while ensuring reliable compressed air delivery. We offer a wide range of AC frequency drives that are compatible with many of our key products, allowing us to create an efficient solution that is tailored to your needs.
Reliability You Can Trust
Our primary goal is to serve customers by creating sustainable value through high-quality products at competitive prices backed up by responsive service and support.
Let's see which compressor is best for you.