Delta Industries Inc. has been the trusted name in compressed air distribution and services for the past 30 years. With several offices across Illinois and Iowa including Chicago, Des Moines, Cedar Rapids, and Peoria, we are able to deliver reliable, professional, and quality air compressed services for companies of all sizes. Our wide variety of products and services including product rentals allow us to deliver effective solutions 24/7 to all our customers throughout Illinois and Iowa.
We are proud distributors of Generon, a company known for designing, engineering, and manufacturing high-quality Nitrogen generators for different industries and applications. We have 24/7 emergency available for our commercial and industrial air system clients in Illinois and Iowa.
Why go with Generon?
With over 40 years of innovation and leadership in the gas separation and nitrogen generation industry, Generon's commitment to a top-of-the-line product has created the most durable and state-of-the-art Membrane systems.
Generon has become the trusted name in the nitrogen generation industry. Flexibility to meet customer needs has allowed over 20,000 industrial systems to be installed worldwide.
Membrane Nitrogen Generators
Membrane Nitrogen generators are great systems used in the commercial, industrial, aircraft, marine, oil, and gas industries. Membrane Nitrogen generators deliver low operating pressures with no hazardous storage.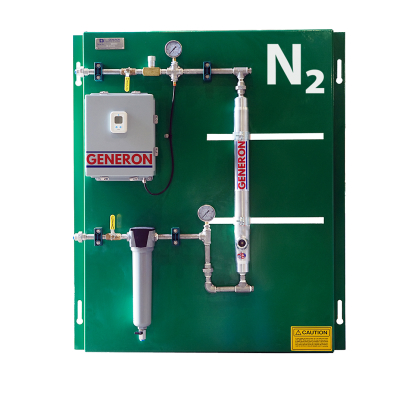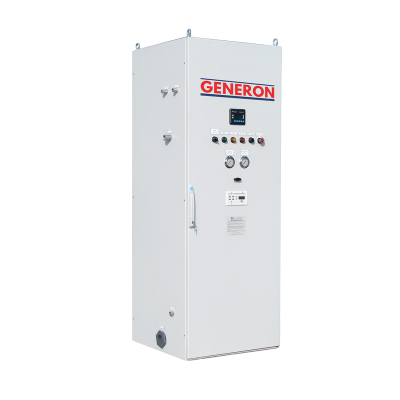 They are easy to install with low operating maintenance costs. This type of generator is very convenient because it can be fully automated for unattended operation. Generon Membrane Nitrogen generators have a long service life and required fewer service periods compared to competitors.
Produces purities from 95% to 99.5%
Generon nitrogen generators are around 1/3 the size
Low operating and maintenance costs
Use about 45% less energy
Can be fully automated
Minimal service intervals
Available forms of Membrane Nitrogen Generators come in Containers, Cabinets, Marine, Mobile, Skids, and Custom Builds.
On-Site Nitrogen Generators – Pressure Swing Adsorption (PSA)
Compact PSA Series
Benefits
Air and nitrogen buffer tanks included
Single-Skidded Design
Trouble-free operation with switching valves that are rated for millions of cycles
Features
Input pressures up to 145 psig (10 barg)
Output pressures up to 120 psig (8.3 barg)
Flows up to 3300 SCFH (86.8 Nm3/hr)
From 95% up to 99.999% purities.
Optional Features
Membrane Dryer system
Fail Safe Mode
Oxygen Analyzer
Air Receiver
Product Flow Meter
Nitrogen Receiver
Product Pressure Transmitter
---
Industrial Twin Tower PSA Series
Benefits
Safe Low Operating Pressures, no Hazardous Storage
Economical Installation, Operating, and Maintenance Cost
Convenient Fully Automatic or Unattended Operation
Reliable and Easy to Install and Maintain
Features
Input pressures up to 145 psig (10 barg)
Output pressures up to 120 psig (8.3 barg)
Flows up to 84,700 SCFH (2,226 Nm3/hr)
From 99% up to 99.999% purities
Optional Features
Touch Screen Operation
Nitrogen Pressure and Flow Regulator
Single Skidded Design
And More
Additionally, GENERON's Industrial Twin Tower series ranges from 34 Nm3/h / 22 SCFM to 3,200 Nm3/h / 2,030 SCFM.
Nitrogen Generators in Chicago and Des Moines
We offer sales, service, repair, maintenance, audits, and engineering of Nitrogen generators in the Chicagoland and quadcities area.
Top-Quality Products
For more than 30 years, we have been using durable and top-quality nitrogen generator products that allow us to deliver the best results every time.
Incredible Innovation
We constantly work on improving our nitrogen generator products to meet the changing demands of our customers. We also try to improve safety features to protect both users and equipment from potential damages.
Communication is Key
As a locally-owned company, communication with our clients is critical because it helps us understand their needs better to serve them accordingly through improved services and effective solutions.
Professionalism & Dedication
Our team members hold a degree related to engineering or technical studies, making it easy for them to fully comprehend each client's application, especially those who need customized solutions.