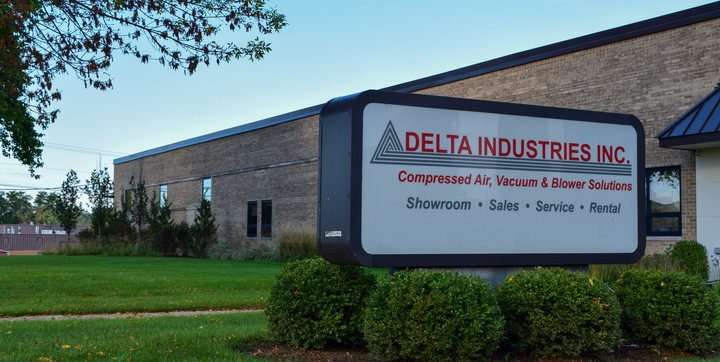 For over 30 years, Delta industries have provided sales, service, rentals, and 24/7 emergency service and repair of compressed air systems in the Cedar Rapids region, including Iowa City, Waterloo, Monticello, Manchester, Brooklyn, Des Moines, Newton, Dubuque, Ames, Davenport, Moline, and surrounding Iowa cities.
Industrial and Commercial Air Compressed Services in Cedar Rapids Iowa
Depending on your business needs, maintaining or repairing your industrial air compressor might not be something your building engineers can do themselves. Let your staff focus on the day-to-day facility operations while our team focuses on air compressor maintenance and repair.
Iowa Commercial Air Compressor Maintenance and Repair
Delta Industries technicians like to suggest that our customers keep their machinery on a maintenance schedule, such as air compressors, blowers, and air knife systems. If your business is looking for a replacement unit, we will walk you through the options and recommend the best fit for your requests.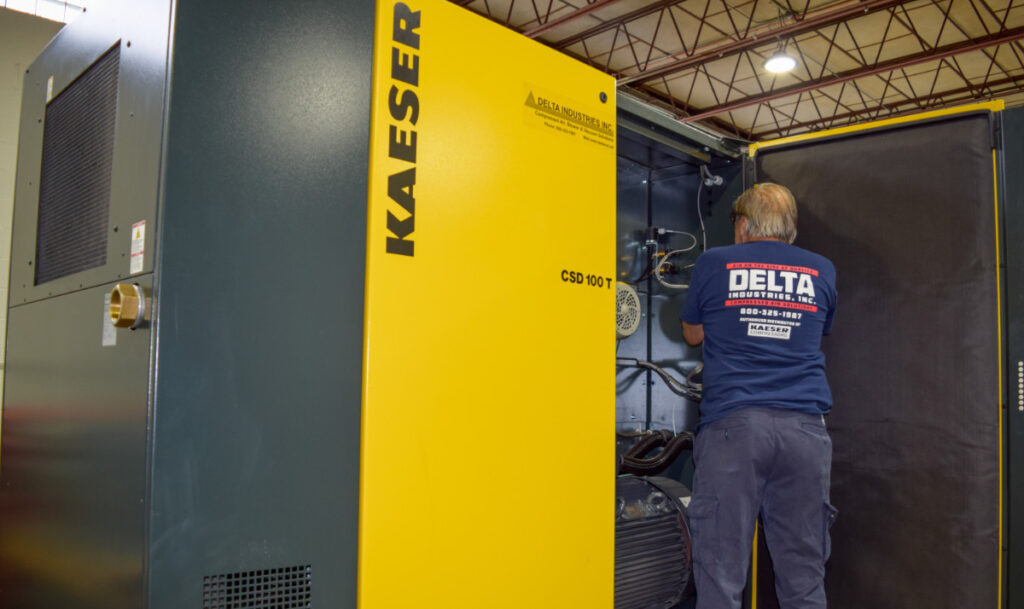 The friendly staff at our Cedar Rapids location is ready to help with any questions you may have. We offer complete repair services for most major brands of high-pressure compressors. We also offer onsite maintenance and emergency repair. Make sure to check our article about how to maintain your compressor during the summer months.
Compressed Air Equipment Parts and Sales in Cedar Rapids
Delta Industries offers a great assortment of vital parts and industrial air compressor parts to ensure every piece of equipment can perform efficiently daily. Standard parts include oil filters, control valves, lubricators, gaskets, and much more. With the precise compressor parts and regular service by a knowledgeable service, you can ensure a lengthier lifetime for your air compressor while keeping costs down.

Our shop-trained technicians have the necessary skills and experience to troubleshoot and repair any air compressor, vacuum, or blower problem. We are pleased to sell and rent some of the most trusted brands of industrial air compressors in the Cedar Rapids area and surrounding cities including Chicago.
We are dedicated to providing complete solutions to help you improve production demands, reduce costs, and increase efficiencies for your air-compressed systems.
Full Air Compressed System Turnkey Design Systems in Cedar Rapids
Our Cedar Rapids, Iowa location offers turnkey design systems to customers through Illinois and Iowa. Our company has been around for over 30 years; we are proud to have built relationships with the companies in and around the City of Cedar Rapids, Iowa. Over the years, we have been able to deliver the best turnkey design solutions for different industries and company sizes.
Our mission has been to stay on top of equipment update grades from those manufacturing the equipment. Our Cedar Rapids team sees the day-to-day operations to be ready to offer companies such as yours the best performance air compressor equipment in the industry.
Our ready-to-install or custom-designed systems are highly efficient and designed for maximum noise reductions; this system can be the perfect solution for your business needs.
Cedar Rapids Air Compressor Product Rentals
Delta Industries understands the importance of trust in equipment such as compressed air and vacuum systems in a manufacturing facility, especially when production needs are in place. Our company offers a wide range of rental equipment solutions to our customers in Illinois and Iowa to help you keep afloat when you transition from an older compressor model to a newer version or your existing equipment needs extensive repair.

Our seasoned team members in the Cedar Rapids, Iowa area can give you specific industry direction and advice that will guide you to the fastest, effective equipment rental installation.
Industrial Blowers and Vacuums in Cedar Rapids
You can count on Delta Industries for high-quality, reliable blower or vacuum pump products and services. For over 30 years, we have been dedicated to providing, maintaining, renting, and repairing industrial and commercial air compressed equipment, blowers, and vacuums.
We offer Kaeser blowers and vacuums – one of the most reliable in the industry for commercial and industrial clients in the Cedar Rapids and Des Moines areas. After purchasing or renting a piece of equipment from us, you can rest assured that you will be backed up by superior 24-hour service and support.
We carry a wide array of air compressors, blowers, and vacuums to choose from. Give us a call today and learn how Delta Industries can help you with all your air compressed, blower, and vacuum needs.